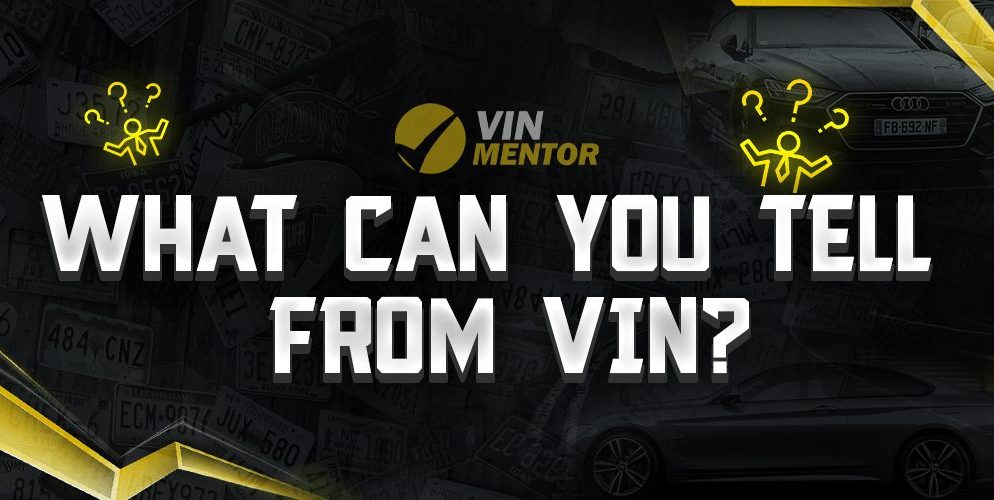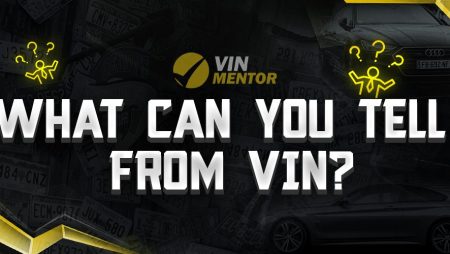 Vehicle Identification Numbers (VINs) are unique identifiers that help track and identify vehicles. They are used by manufacturers around the world, and they reveal important information about vehicles.
VINs are used by many types of organizations, including government agencies, insurance companies, car dealerships, and auto mechanics because they are unique and contain useful information.
Key Takeaways
The first three digits deal with vehicle manufacturer and location of manufacturing
4-8 digits elaborate Vehicle Description like its engine size and power
9th digit serves the verification purpose or acts as an authorization of VIN
10th digit specifies the build year or model year of the concerned vehicle
11th number describes the car assembly plant
The last 6 numbers are actually the serial number of the vehicle
Buyers from VIN can learn more about the vehicle's history(country of manufacturing, engine size, car model year, vehicle type)
VIN Breakdown
Learning how to read your car's VIN before purchasing a vehicle is always a wise decision. It equips you with all the necessary information to detect any wrongdoing and handle it appropriately. This also facilitates you to locate the precise components for your automobile. Let's first take a quick look at different segments of VIN;
Three first digits (WMI)
4-8 Digits (Vehicle Description)
9th Digit (Check Digit)
10th Digit (Exact Built Year)
11th Digit (Car Plant)
12-17 Digits (Production Line Numbers)
These numbers can be sorted into three sections: World Manufacturer Identifier, Vehicle Descriptor Section, and Vehicle Identifier Section. A few individual numbers are also there which specify certain information. Let's explore them to discuss what each segment is holding up for you
World Manufacturer Identifier (WMI) 1-3
The World Manufacturer Identifier is made up of the first three numbers of a vehicle's VIN:
The 1st digit designates the country of origin. This digit varies from place to place and can either be in alphabets or numbers. For instance;

1-5 for North America
6-7 for Australia & New Zealand
8-9 for South America
A-H for Africa
J-R for Asia
S-Z for Europe

The 2nd digit identifies the manufacturer of the concerned vehicle. Each manufacturer has a different number. For instance, BMW has a 'B.' But this isn't a thumb rule that the first word of the brand will be part of VIN, as multiple car companies share the same initials. It's always an ideal practice to check the complete list of manufacturers & their respective VINs 
And the kind of manufacturing division of your car is indicated by the 3rd digit when combined with the first two. For example, WDF is for Mercedes-Benz (commercial vehicles), and NLE is for Mercedes-Benz Türk Truck.
Vehicle Description Section (VDS) 4-8
These numbers represent the Vehicle Description Section. Your vehicle's model, body type, restraint system, gearbox type, and engine code are all identified by the 4th through 8th numbers.
The 4th digit  deal with the vehicle's model-specific information like body style, GVWR (gross vehicle weight rating), brake system, etc
5th & 6th digits specify the series and chassis of the vehicle
The 7th digit usually signifies the restraint system, i.e., safety belts, airbags, seat belts, etc
The 8th number elaborates the engine related information. This is usually an alphabet that assists in finding accurate spare parts.
The sequence of these numbers may change, but the decoded information will reveal the overall vehicle description.
VIN Verification Digit: 9th
The check digit, or the 9th digit, is used to identify fake VINs.
The U.S Department of Transportation established a mathematical formula that determines the number that appears in the 9th slot. A rough and tough calculation goes into the backend of this verification process. You can learn it from here, or our suggested decoders will automatically do it for you.
Vehicle Model: 10th Digit
The 10th digit deals with the manufacturing year of the vehicle. For vehicles of models 1980 to 2000, alphabets are used in the VIN. 1-9 numbers occupy the 10th place in VINs of car models from 2000 to 2009.
2010 to 2030, alphabets would be used. Then, in 2031, once again, numbers will replace the alphabet.
| 10th place In VIN | Manufacturing year | 10th place In VIN | Manufacturing year | 10th place In VIN | Manufacturing year | 10th place In VIN | Manufacturing year |
| --- | --- | --- | --- | --- | --- | --- | --- |
| A | 1980 | M | 1991 | 2 | 2002 | D | 2013 |
| B | 1981 | N | 1992 | 3 | 2003 | E | 2014 |
| C | 1982 | P | 1993 | 4 | 2004 | F | 2015 |
| D | 1983 | R | 1994 | 5 | 2005 | G | 2016 |
| E | 1984 | S | 1995 | 6 | 2006 | H | 2017 |
| F | 1985 | T | 1996 | 7 | 2007 | J | 2018 |
| G | 1986 | V | 1997 | 8 | 2008 | K | 2019 |
| H | 1987 | W | 1998 | 9 | 2009 | L | 2020 |
| J | 1988 | X | 1999 | A | 2010 | M | 2021 |
| K | 1989 | Y | 2000 | B | 2011 | N | 2022 |
| L | 1990 | 1 | 2001 | C | 2012 | P | 2023* |
You might have noticed that a few alphabets are missing from the sequence. 'I,''O,''Q,' and 'Z' are absent due to similarity with numbers.
Manufacturing Plant: 11th Digit
There are no defined rules for this, as each auto manufacturer comes up with its own standard codes. But, efficient decoders can easily detect these digits and decode the manufacturing plant where your concerned vehicle was built.
Vehicle Identifier Section (VIS) 12-17
Your vehicle's unique manufacture serial number is composed of the 12th through 17th  numbers. This can help you track down the changes a specific part has gone through in the manufacturing plant at the time of making. Overall, this part has no particular use in auto buying-selling deals.
What the VIN Tells Us?
There are several details about vehicles that are encoded in the VIN of every vehicle. Some information, like trim level, is only available from the VINs of certain types of vehicles.
The following information can be obtained from a VIN:
Make, Model, and Year. A vehicle's make and model are encoded in its VIN. The tenth character is a code used to give the model year, and the WMI encodes the brand, make, and model.
Engine. The eighth number of the VIN is the engine code. When the entire VIN is decoded, this number can give you information about the type and size of the engine. Information about the engine block and details like the number of cylinders and valves is always specific to the VIN. Fuel type is usually encoded in the VIN, but not always.
Vehicle Type. Before 2010, the vehicle type was included in the WMI, but it is now part of the VDS. Every VIN contains information about the vehicle's body type.
Body Style. Some makes and models have more than one body style, differentiated by cab type, body style, and the number of doors. Manufacturers capture this information in the VDS section of the VIN.
Drive Type. The type of drivetrain is usually encoded in the VIN. Common types of drivetrains are front-wheel drive, all-wheel drive, and 4-wheel drive.
GVW Rating. Information about a vehicle's Gross Vehicle Weight rating is included in the VIN. It may not be specific, but it will at least identify if a vehicle is rated as light, medium, or heavy-duty.
Restraint Systems. VINs capture information about restraint systems, although they don't always help define which types of restraint systems are used. Most vehicles have passive and active restraint systems, such as seat belts and airbags, but VINs don't always tell you which type.
Full article about what can you tell from VIN can be found here.
What a VIN Won't Tell You?
There's a lot of information packed into the 17-character VIN number, but it can't tell you everything. Some types of information are available depending on the manufacturer, such as the trim, transmission type, the GVWR (Gross Vehicle Weight Rating) range, and other features.
Other information is never encoded in the VIN, including:
Exterior color
Interior color
Upholstery options
Equipment options
MSRP
People can't legally get personal information about the owner of a vehicle by decoding a VIN. To do that, they must file forms with a government agency to request such information.
Some VIN history reports will include the name and address of the last owner. However, VIN data is not a matter of public record, and it is illegal to abuse this information. Having to pay for these reports deters scammers from using this information to target people.
TLDR
Conclusion
In a nutshell, VIN is unique and crucial for every vehicle. Therefore, every buyer and seller must keep a piece of basic information about "What is VIN?" Also how to read and decode it efficiently.
We have listed multiple tried and tested credible VIN decoders to answer your every need. Just get in touch to get the most out of it!
If you're planning on purchasing a used vehicle, then you need to use one of these high-quality VIN Check Sites to get a full history report and uncover information that scammers might want to hide from you.