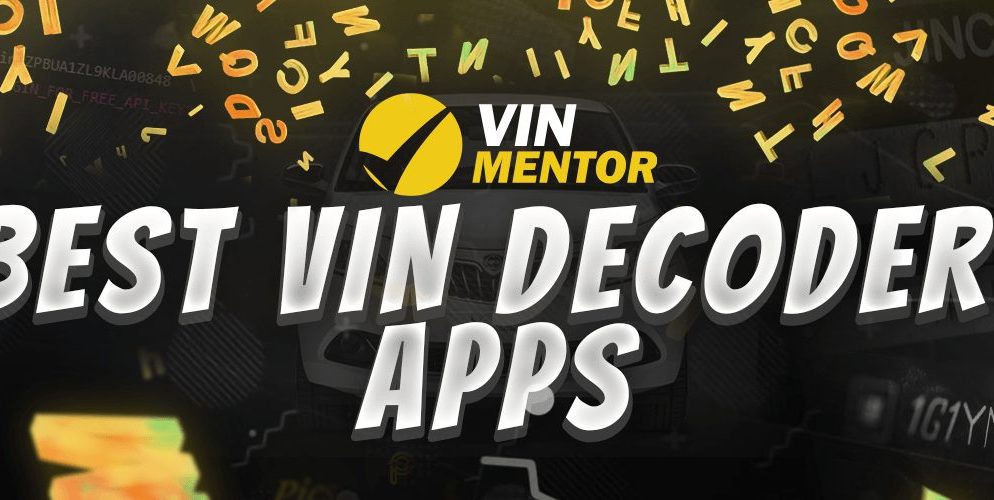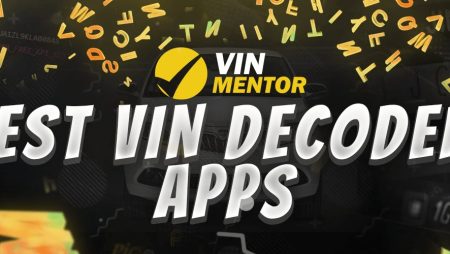 As anyone who has ever had to get a used vehicle can attest to, you must be aware of all there is to know about the car. After all, there are so many things you don't know for sure when the purchase involves a vehicle that has been around for some time. There may be hidden damages that the seller isn't willing to discuss; there may even be liens on the car or a history of criminal behavior. In all of these cases, you need to have a tool on your side to help you separate fact from fiction – and that is exactly what a VIN decoder can do.
If you've ever looked into VIN decoding using an app, you may have quickly realized that there are quite a lot of options where you can get such services, and they all claim to be the very best at what they do. So how are you supposed to narrow down your search to the VIN decoder app that will fulfill all of your needs? If you've been feeling lost trying to navigate through all of the options available online, you are in the right place! At VIN Mentor, we have done the research and are going to show you the best VIN decoder apps, determined through expert analysis and a four-step review process. With all that in mind, let's get started!
5 Best VIN Decoder Apps of 2023
View All Reviews Listed on VIN Mentor
Our Top VIN Decoder App Picks
Why We Picked It

Ranks #1 out of 22 VIN decoder apps
In our opinion, carVertical is the best VIN decoder app out there. The main reason for that is their quick service and accurate reports. They use efficient blockchain tools to minimize tampering. Every report contains a direct link to check the authenticity of the data. It is highly recommended due to the authenticity of the information. Also, it ensures relatively up-to-date information compared to other sites. In the end, this website provides a checklist that provides you with a real-time experience. But overall, it is more than one can expect from a report of a few bucks.
Read full carVertical review here.
Pros
Offers cost-effective decoding solutions when compared to competitors.
Uses blockchain to ensure original and tempered-proof reports.
Updates data regularly to provide the recent-most information.
Employs various checks to gauge the quality of data.
Exceptional customer support with a decent refund policy.
Cons
Pretty new to the market.
Doesn't provide the option to buy more than three reports at once.

Ranks #2 out of 22 VIN decoder apps
ClearVin is one of the best VIN decoder app, as it offers affordable and accurate reports. It provides verified information from a wide range of service providers. The customer service is very quick and responsive. The audit report covers safety recalls, vehicle specifications, auction photos, theft records, damages history, accident data, price analysis, and many other details.
An overview of various records is also provided in the summary section. The website covers the history details of various automobiles, trucks, and other vehicles. Incorporating repair records would be a great addition for the users. Also, some reports are outdated. So, regular update of data is mandatory to keep the customers informed about recent happenings with their concerned vehicles.
Read full ClearVin review here.
Pros
Responsive customer service system.
Free recall reports that may assist you in buying cars.
The history of trucks and other vehicles can also be checked.
Provide a money-back guarantee.
Affordable and accurate reports.
Cons
Only provide service in Canada and the US.
Provides fewer data as compared to competitors.
Some reports may contain outdated information.
Site performance may be slow sometimes.
Not all the reports carry full-scale information.

Ranks #3 out of 22 VIN decoder apps
EpicVIN is one of the rational choices among today's VIN decoding platforms. It is much more affordable. You just have to pay $14.99 to get almost all the important details about your vehicle. The interface is pretty easy-to-use and engaging. The website provides you with reliable information, which is verified through NMVTIS and blockchain tools. EpicVIN is safe enough and keeps your information secure.
The service is responsive, but live chat is unavailable. But the low pricing and reliability are the best reasons to choose this platform. What makes you wait? This platform is for you if you're looking for maximum data on car history at a low cost.
Read full EpicVIN review here.
.Pros
A cost-effective VIN decoder for bulk reports.
It offers basic information for free.
Easy to request vehicle reports.
Only takes a few moments to generate reports.
It includes the most relevant details about your vehicle.
Cons
It keeps your VIN available for other customers to check.
Currently, the report doesn't provide maintenance information— though they have plans to add it soon.
Direct, timely assistance from CS would be a great addition.
The tech service information feature is still in progress.
The users may face loading issues in the mobile app.

Ranks #4 out of 22 VIN decoder apps
VinAudit is a good choice in comparison to other costly VIN decoders. You can access reliable information at a very affordable price. The website offers great customer support and useful vehicle details. You can also use free tools and resources. The website uses trusted sources to provide you with genuine information. Some areas need improvement, like the report should be more comprehensive. It should contain photos, extensive damages, equipment records, and maintenance records. But overall, it's one of the best VIN decoder apps in today's vehicle marketplaces.
Read full VinAudit review here.
Pros
It gives a comprehensive overview of ownership history.
It is the most affordable VIN checker in today's market.
VinAudit provides a variety of free tools and lookups.
You will get quick reports with excellent customer service.
Reports remain in the system for about one year. You can access it at any time.
Cons
The interface appears quite outdated.
The report is not as comprehensive as the others.
It only provides services in the United States and Canada.
You are unable to share login details with others.
VinAudit has limited resources to collect and verify information.
Ranks #5 out of 22 VIN decoder apps
AutoCheck vin decoder app with score ratings is a reliable option to consider. It provides fast and easy solutions to help customers to make vehicle comparisons. The platform provides a secure environment for the users. The pricing is affordable. In addition, this VIN decoder gathers info from verified agencies and leading partners. It means the authenticity of data is ensured. You will get dynamic vehicle updates throughout the package subscription period. AutoCheck has a convenient refund policy. It offers buyback protection to keep the data secured. Some portions need improvement: the free report should contain more detail, and customer support should be improved. But, overall, it is one of the best VIN decoder aps in the market.
Read full AutoCheck review here.
Pros
The website is straightforward to navigate.
It gathers information from multiple databases.
Batch purchasing of reports is a cost-effective option.
The score feature enables the user to compare the vehicles.
It offers Buyback Protection for paid users.
Cons
Customer service is reliable but not much responsive.
The price of a single report is relatively high.
The free versions may have minor issues and not provide considerable details.
The report does not include maintenance records.
It does not report all types of accidents in the report.
What to Consider When Choosing VIN Decoder App?
When looking for a decent VIN decoder app, there are a few crucial factors you need to keep in mind. Here's what they are:
The Information They Provide: there are a lot of different kinds of data you can gather about your car or truck through a VIN report. Before you decide to choose a service, make sure that they can provide whatever information you are interested in the most.
The Cost Of Reports: how much a report will cost you is an important consideration when choosing a VIN decoder app. The benefits of receiving this report should offset whatever cost you are comfortable with.
The Accessibility On Mobile: since you will primarily be using the VIN decoder app on your phone, you should be able to access the app and report with ease – the text should be readable, and you shouldn't have to deal with performance issues when using it.
The Safety Of The App: Having a secure platform is crucial when you consider that you may be making payments on the app in question. Before you share any financial data, ensure you know how safe the website and payment gateway is for you.
How We Tested VIN Decoder Apps?
With VIN Mentor, customers like you can learn all you need to know about the best VIN decoder apps out there. How do we know this? The answer comes down to our highly effective review process, used to verify the information available on these apps. Here's how we do it:
We Test Their Service: In our review process, we test out what the VIN decoder app has to offer, allowing us to have comprehensive information on how the services they provide match up to their claims.
We Check Their Prices: The second step is a result of us comparing the price of the VIN decoding apps to the features that they offer. This allows customers like you to make informed decisions about how to best proceed with each service.
We Check Their Reputation: We want to protect users from scams and fraud, which are all too common these days. The best way to navigate ahead is to verify how reliable each VIN decoding app is, so you can trust us when we recommend a service.
How Good Everything Was: Finally, we test out how each platform performs by trying out the best services so we have accurate and firsthand knowledge of factors such as website speed, navigation, and access to support.
Conclusion
At the end of the day, it is not always easy to just find the best possible VIN decoder app that will work for just about everyone. This is because each provider has strengths that can make it more appealing to people depending on what they are looking for. While some focus on low costs and deals, others aim to provide far more comprehensive and reliable information.
The best way to approach finding a VIN decoder app is to know what you need from it and cross-reference it with our reviews. This way, you can easily choose the right app to find out more about a vehicle.
Our goal with a list of the best VIN decoder apps is to make things easier for you – the user. The review process we have on board helps us deliver on that promise as we inform users about the credibility, performance, features, and security of all of these apps.
With all of this being said, it is also important to talk about free VIN decoding services. While they are available, you have to take the information reported back with a grain of salt – after all, in this day and age, the best way to get information is often through premium deals.
Frequently Asked Questions
✔️What Is the Best VIN Decoder App?
We all look for completely different things when considering VIN decoder apps. As a result of this, the best app will vary depending on your needs, choices, and budget. Luckily, our list of the best options can make this choice a lot easier once you know what you need.
✔️How Do VIN Decoder Apps Work?
VIN Decoder Apps use the car or truck identification number to find hidden information such as the manufacturer, model, systems, and more. At the same time, high-quality VIN decoding apps also match up VIN to reliable databases to provide even more information about a vehicle.
✔️Are VIN Decoder Apps Accurate?
It is difficult to answer this question without knowledge of the VIN decoding app you end up using. However, as a general rule of thumb, most premium vehicle history reports will give you more accurate and detailed information about the vehicle. Our list includes some of the best choices out there, so don't forget to take a look!
✔️What Is the Most Reliable VIN Decoder App?
How reliable you end up finding a VIN decoder app will depend on a lot of different factors. At the same time, you can rest assured that the options shared in this list have all gone through our review process and have been tested to ensure they offer dependable services.